How to succeed at competency-based interview questions
6 MIN READ
APRIL 25, 2022
Valentine Oliver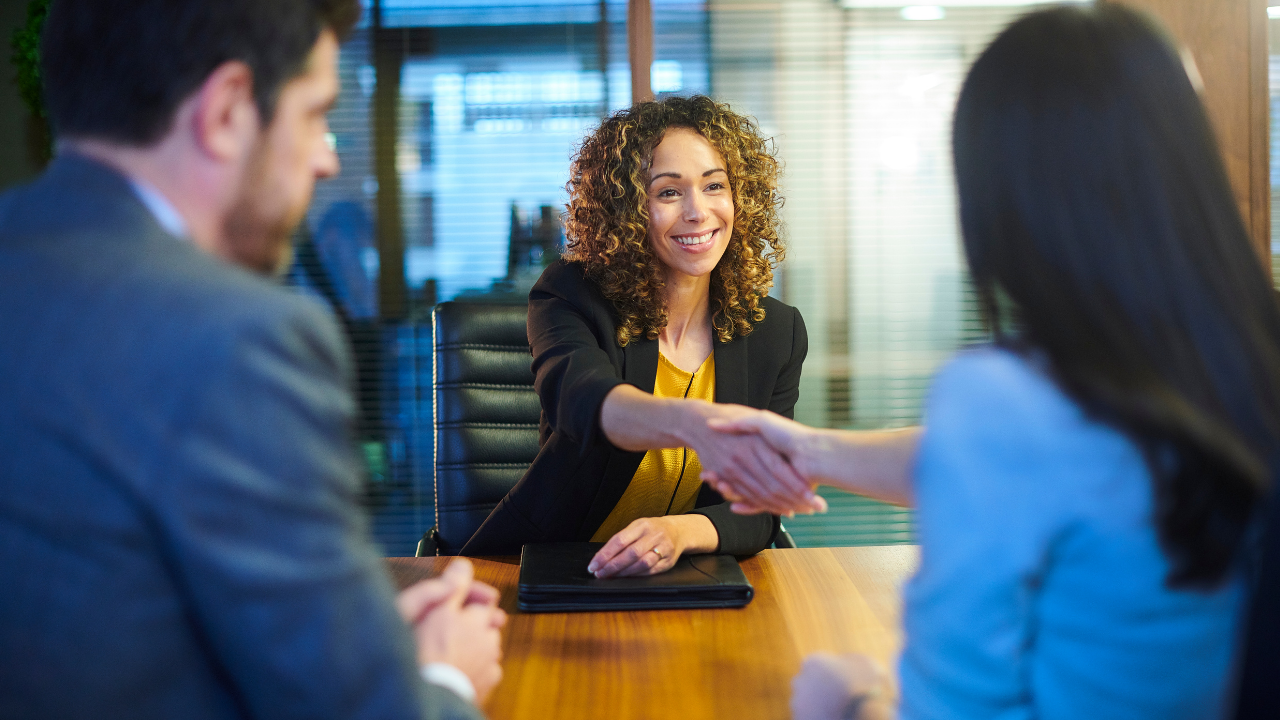 Although it is undeniable that interviews can be stressful, if you do your research, there's a high chance you'd land the job. This is why we want to help you with mastering competency-based interviews
Competencies are the abilities, behaviours, and knowledge that you will bring to the role. Employers will use open-ended questions to elicit real-life scenarios in which you can demonstrate how you used your competencies most effectively.
We'll help you understand what competency-based interviews question are. Furthermore, we'll provide competency question examples to help you prepare stories in advance.
Preparing your stories ahead of time will strengthen your mental muscles and improve your chances of landing the job.
What are competency-based interviews?
Competencies are defined by the Chartered Institute of Personnel Development (CIPD) as "the behaviours employees must input into a situation to achieve high levels of performance."
Competency questions, in essence, help employers understand how you've previously dealt with specific situations, tasks, or people.
"Past behaviour is the best predictor of future performance," says Lydia Fairman, an HR and resourcing expert. " Your potential emplo
yer is interested in learning more about your background and experience in relation to the competencies being evaluated."
You could be asked about a variety of competencies, including technical skills, behaviours, and knowledge.
A scenario-based interview question may be asked in several parts, for example, "How are your communication skills?" "Great, can you give me an example of how you've used verbal communications to change someone's mind?" they could go on to say.
It is critical to memorize some competency examples that you can adapt depending on the questions asked to be prepared. In the later sections of this guide, we'll go over exactly how to do so.
Advantages of competency-based interviews
Employers frequently use a pre-written script for competency-based interviews. This is combined with a point-based system for evaluating candidates. This means that all candidates are subjected to the same questions. This usually results in a more equitable interview process in which every candidate has an equal opportunity to shine.




Competency questions necessitate candidates to recall personal experiences. Some people find them easier to answer than common standard questions that necessitate research into topics about which the candidate has little or no knowledge.




Employers are primarily looking for two things when interviewing candidates: someone who will excel at the job and someone who will work well with current employees. Competency interview questions, by definition, give candidates every opportunity to demonstrate that they have all of the necessary experience and capabilities to do the job.



Disadvantages of competency-based questions
Some candidates spend so much time polishing their responses that they unintentionally give the impression of having a robotic personality.




Some candidates struggle with the open-ended nature of the questions, according to James Shaikh, recruitment manager at Ernst & Yong, and end up providing "poorly constructed or unclear answers."




According to Eve Lindström, an HR advisor for Joshua James Jewellery, these are the most difficult types of questions. "When put on the spot, we find that a lot of interviewees freeze."




According to John Lees, author of Knockout Interview, if an interview is solely focused on competencies, a candidate may miss out on the opportunity to express their emotions or motivations.



How can I tell when I'm being asked a competency-based interview question?
If the employer does not explicitly state that they are going to ask you competency questions, you can usually tell by the way the question is phrased.

Typically, competency questions direct you to describe a situation and task. For example, an employer may begin the question with:


Please tell me about a time when...




Give an example of...




Describe a situation in which...



Have you ever found yourself in a situation where...


Competency-based interview questions always require a previous example of something you've done.
Standard interview questions, on the other hand, such as 'What are your strengths and weaknesses?' do not explicitly ask for examples, though it is always helpful to provide one.
How to answer competency-based questions
We recommend following these four steps when preparing for a competency-based interview.
Find out what competencies the employer is looking for.
Identify examples of competency questions.

Create a narrative for each competency.



Choose the appropriate story for the appropriate question during the interview.



Let's break these steps down further, shall we?
1. Find out what competencies the employer is looking for
"Competencies are the knowledge, skills, abilities, and behaviours required to succeed in a given job," says Katherine Burik, founder of The Interview Doctor. "Every job is a little different from the next. However, if a candidate is familiar with the job they're applying for, they can anticipate what questions they'll be asked."
Burik adds that the first step is to determine which competencies the employer is looking for.
Begin with the job posting. Examine the job description. Look for keywords that indicate the competencies desired by the employer. You may need to decipher the jargon, but the majority of the bullet points in the ad will correspond to a competency.
Next, look for articles that describe the role online. Look for the job title followed by 'job description,' such as 'project manager job description.' Typically, these articles spell out the necessary skills and competencies.
After that, conduct some research on the employer to see if there are any areas of expertise that they are lacking.
Finally, ask the recruiter who set up the interview if they'd be willing to provide more information on the employer's requirements.
Prepare competency-based answers for all three areas if the job ad and job descriptions mention a mix of skills, knowledge, and attitudes. This is the most effective method for compiling a comprehensive list of competency-based interview questions.
2. Identify examples of competency questions
Find an example from your work or educational history that demonstrates you possess each competency you know the employer is looking for.
Essentially, you must prepare positive competency question examples that highlight your previous successes and, most importantly, explain how you added value to your previous employers.
This is one of the most difficult tasks you will ever face in your working life. Many candidates struggle with this. If you make the effort to think critically about your past, you will have a huge advantage.
Setting aside a morning, finding a quiet place at home, a cafe, or the library, and listing your work and educational accomplishments with a pen and paper or on your laptop, tablet, or phone are all suggestions. We say in the morning because most people can think more clearly earlier in the day.
If you're having trouble recalling stories from your past, talk to your friends and family and ask them when they've seen you use that particular skill.
Examine your CV or LinkedIn profile to refresh your memory on previous roles or experiences.
When did you achieve good results? Note that down.
3. Create a narrative for each competency
As you tell your story, it should sound natural.
Maintain a positive attitude throughout.




Don't dwell on the negatives or criticize others.




Make a point of highlighting how you made a contribution to the successful result.




Your examples must be tailored to the competencies required for the position for which you are applying. Don't fall into the trap of talking about what you usually do, says John Lees, author of Knockout Interview.
You'll also need to keep your stories brief. You'll bore the boss if you waffle.
4. Choose the appropriate story for the appropriate question during the interview
Before you give your competency-based interview answers, pay close attention to the employer's words to ensure you're addressing the correct competency.
Adapt the focus of your story as needed. For each question, tell a different story. Don't say it again.
Remember to provide an example of when you've demonstrated this skill. If you're unsure how to respond, seek clarification before you begin. Each question will be interpreted differently by each employer.
"Never respond by saying 'I haven't done that before," says John Lees, author of Knockout Interview. "Consider something similar you've done and explain it. Be specific and provide examples from your own life. General or theoretical approaches will not be graded."
How are competency questions scored?
Many employers use a scorecard to assess the quality of a candidate's competency interview answers.
Every employer will approach scoring in a unique way. It is dependent on their own procedures, according to Alison Clay, a careers advisor at the University of Sheffield. "Some will mark on a 5-point scale, while others will mark on a 10-point scale." There will be points available for the various elements (competencies) that comprise the job."
Each interviewer will be given a scorecard.
Interviewers will compare scorecards following the interview.
Typically, you will be evaluated based on positive or negative indicators, which we will discuss below.
Positive Indicators
To get a high score, you must demonstrate the following:
You approach problems in a positive manner.




You can reach an agreement.




You are eager to learn new things.




You are conscious of your own limitations.




You must demonstrate a willingness to accept assistance and learn from your experiences.




You can deal with stress.



Negative Indicators
On the other hand, avoid sending the message that you:
Consider challenges to be problems.




Attempt to solve problems on your own and fail.




Under pressure, crack.




Are critical of solutions proposed by others.
Scoring Indicators
When conducting competency-based interview scoring, employers will take the following factors into account:
Do you have a track record of demonstrating the required competency or skill?




Are your examples pertinent?




Have you defined your role, your actions, and your contribution to the outcomes?



How we can help
Graduate Scheme Success can help students and graduates to succeed in all psychometric tests. We also assist with internships and graduate job applications.

We can help you reach your full potential with our 1:1 mentoring, online courses and 5* rated services.
Need guidance and support in succeeding in your applications? Contact us and book a free consultation today.
Created with